Nurturing a young toddler's curiosity through constant academic exploration
12 months – 18 Months
Growth and inquisitive adventure initiate the learning pattern of our toddlers. Our Toddler Program provides our students with an opportunity to learn and thrive in an environment enriched with a variety of interplay between nurture, stimulation, and nature. We help our students grow and develop with exposure to a variety of meaningful experiences and activities.
Potty Training:
As children grow from early infancy to the toddler stage, their eagerness to learn and move about becomes greater. Our young toddler classrooms provide a safe, healthy, stimulating daycare environment that focuses on action-based sensory experiences. Small-sized climbing equipment indoors and outdoors enhances gross motor development.
The children are encouraged and supported in their attempt to care for themselves and become independent. They are guided to interact appropriately with other children.
The developmental model at Learning Stages is designed to enhance the children's social, emotional, and intellectual development. The activities surrounding this include allowing our toddlers to become familiar with books and reading, art, and music experiences.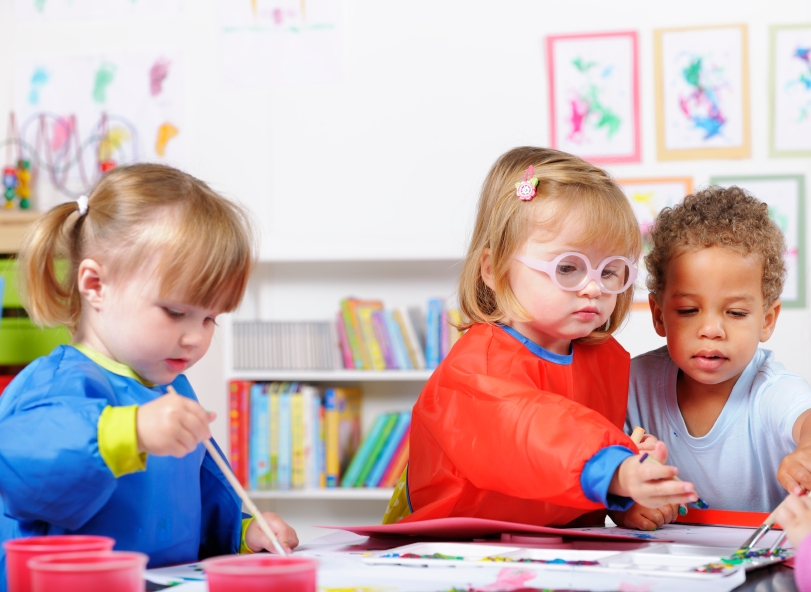 The Four Essential Learning Domains for our young toddler program includes:
Physical Development

Cognitive Development

Language Development

Social and Emotional Development
Our young toddler program also includes:
Learning centers that provide meaningful child-initiated learning activities

Storytime to introduce early literacy

Outdoor play and activities designed to coincide with physical development

Daily reports and weekly lesson plan to keep you informed of your child's development

Parent Letters that provide activities to do at home that reinforce what they learn at school.
Home Connection
The connection between home and school benefits the child greatly. This connection helps build better academic success and social skills. Reinforcing what they learn at school at home is the best way to see your child succeed. We use the Seesaw app to make that home and school connection easier. Through this app we send pictures, notes,dailies and parent letters.The parent letters are activities to do at home to reinforce what is worked on at school.