Developing Growing Minds With Our Preschoolers
2.5 years – 3.5 years
The Learning Stages preschool program is designed to develop the whole child as an individual. Within a child-oriented environment, our preschoolers are encouraged to explore their surroundings, make decisions, learn to socially interact and become independent.
Our program promotes a positive attitude toward self and school as well as a desire to learn and achieve. We encourage each child to reach his/her maximum potential in social, emotional, physical, and intellectual development.
Our preschool academic program introduces letter and sound recognition, pre-math, art, and science, with a strong emphasis on reading readiness.
Our Preschool Curriculum is divided into weekly, theme-based units. We introduce Words of the Week to strengthen and increase vocabulary and communication. Small Group math and literacy activities, as well as individual skills practice, complement each student's developmental growth and provide a variety of opportunities to explore personal interests.
As children enter preschool, our curriculum accommodates a more planned structure, preparing preschoolers for the academic schedules they'll soon find in elementary school.
Our Preschool Curriculum includes:
Child-directed learning allows preschoolers to actively initiate learning

Pre Math activities that encourage critical thinking and cognitive development

Science investigations that provide hands-on experiences

Literacy and writing activities that are age-appropriate and provide reading readiness skills

Small group activities that are planned for cooperative learning opportunities

Decision-making skills to support growing minds

Emotional and social development with peers and teachers

Daily creative activities to inspire imaginative and creative art and musical play

Planned outdoor activities that promote physical fitness and development

Daily Reports that inform parents of children's daily accomplishments

Parent Letters that provide activities to do at home that reinforce what they learn at school.
Potty Training:
Potty training can be a difficult challenge for some. With parents working with their child at home and the school working together it can make the process a bit easier. Around the age of 2 your child will show signs that they are ready to start potty training. In our preschool class we include potty training in the curriculum. Designating times throughout the day to work on potty training helps your child have the opportunity to go and create a habit to use the potty. Our goal in this class is to have your child fully potty trained before they move to the next class.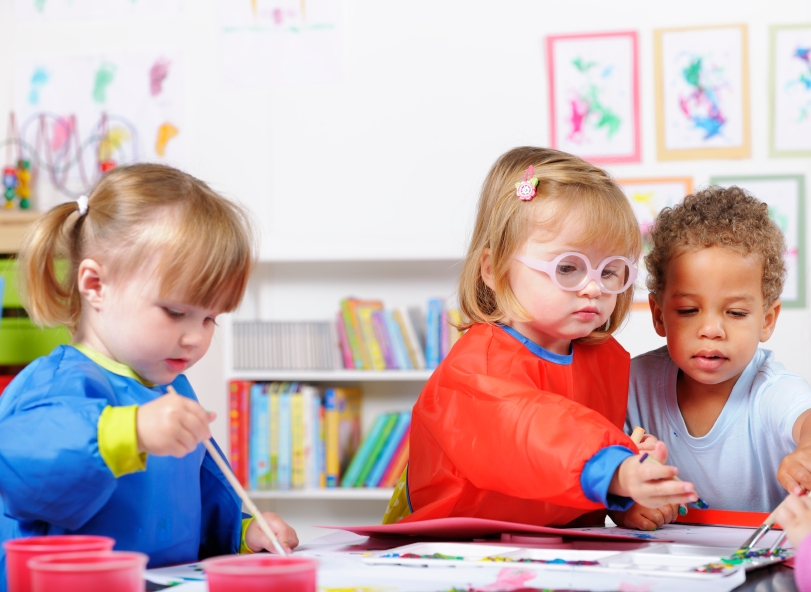 Home Connection
The connection between home and school benefits the child greatly. This connection helps build better academic success and social skills. Reinforcing what they learn at school at home is the best way to see your child succeed. We use the Seesaw app to make that home and school connection easier. Through this app we send pictures, notes,dailies and parent letters.The parent letters are activities to do at home to reinforce what is worked on at school.