Early Childhood Development Starts with building a strong foundation for your infant
2 Months -12 Months
We believe the very best way to support and develop our infants is to provide what they need, starting with caring and attentive caregivers. Our team strives to provide an environment that is safe, interesting to explore, and filled with caregivers who respond to your baby's physical, emotional, and intellectual needs. We connect with each infant by sharing hugs, singing, reading, and talking to them. Educational and developmentally appropriate activities are provided to create an exciting environment for babies to develop their potential for future learning. Expanding the imagination and development of our infants has never been more exciting!
The Four Essential Learning Domains of our Infant Program include:
Language Development

Physical Development

Cognitive Development

Social and Emotional Development
Our Infant Program includes:
A nurturing environment filled with care to promote security and trust

Daily exercises and activities designed to encourage physical development

Storytime to stimulate early language skills

Daily reports and weekly lesson plans to keep you informed of your baby's development.

Parent Letters that provide activities to do at home that reinforce what they learn at school.
Essential Development Areas
The Infant Program is based on infant stimulation principles. Their environment is designed to provide an atmosphere that is relaxed, warm, and loving, so that feelings of trust and security develop. Their daily activity program includes visual and audio stimulation, music, reading, adult language, and play.
Each baby follows a feeding and sleeping schedule that has been set up by you, the parent, and your pediatricians. All our parents are welcome and encouraged to visit throughout the day to increase bonding.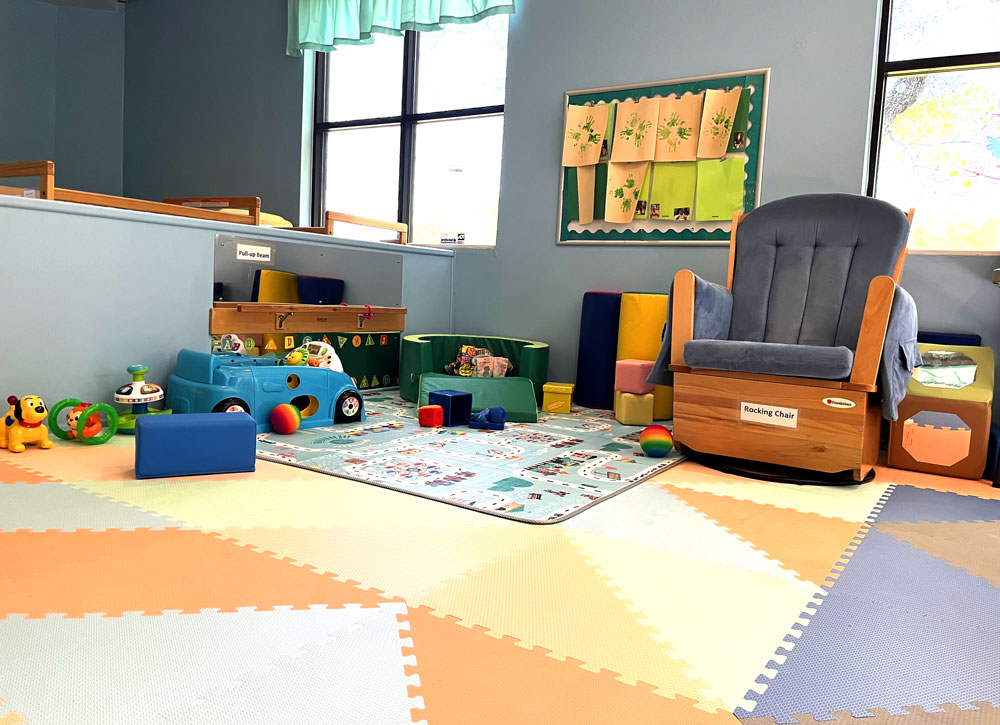 Home Connection
The connection between home and school benefits the child greatly. This connection helps build better academic success and social skills. Reinforcing what they learn at school at home is the best way to see your child succeed. We use the Seesaw app to make that home and school connection easier. Through this app we send pictures, notes, and parent letters. The parent letters are activities to do at home to reinforce what is worked on at school.